Back in December, I made a decision to lose some weight. Why? Well, I had noticed my shirts not fitting the same way (read, my buttons were being stretched and certain shirts just didn't fit at all), my pants weren't fitting either and I felt tired all the time. It had been about 2-3 years since I did any sort of organized fitness routine aside from riding my bike to work, and my body was starting to show the unpleasant results. So during the last week of my Christmas vacation, I vowed to do P90X. If you're not familiar with the workout videos, you can learn more
here
.
This would be the second time I attempted the workout regimen. The first time, was before my second daughter was born. My wife and daughter were visiting family in Nashville so while I had alone time, I jumped into the routine and had done about 2 weeks of it before my family returned to California. Upon my wife seeing me, she was shocked at how much weight I had lost and how trim I was looking. That was just from 2 weeks worth of working out!!!! Unfortunately, I didn't have the focus and commitment to complete the whole 90 day program and ended up only completing about 30 days of it. This time around, I made a promise to myself that I would complete the entire program in time for my trip to Australia. I wanted to feel comfortable taking off my shirt in public, something I hadn't really done for about 3 years and I had the most incredible farmer's tan:)
P90X isn't a diet, it isn't some hormone you take to speed up weight lose, and it isn't a new device that's supposed to help you get fit in half the time with only 4 easy payments of $49.99. It's a plain and simple program that gets you in the best shape of your life! There are really only 3 main things you need to do in order to achieve incredible results with the program and they are:
Eating small portions of good, whole foods about every 2-3 hours. No sweets, soda's, etc
Working out HARD, 6 days a week!
A commitment to do the first 2 points NO MATTER WHAT!!
Here are my results after completing the full 90 days: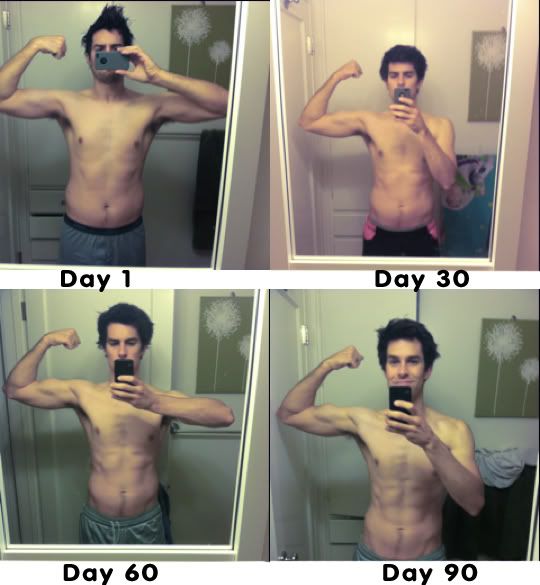 Point number three is the defining factor for success and what I was able to lock down starting day 1. I had this weird feeling that I was going to complete it no matter what and my commitment proved to be strong because there were nights were I would lay in bed and say, "I'll double up tomorrow... I'm just too tired to workout tonight." But after about 10 minutes in bed, I'd get up and pound out the 1 1/2 hour workout. Feeling great, I'd go to bed knowing I killed it and accomplished another day of working out and sticking to my plan. Of course there were a few days that I didn't eat as planned, but that happened twice over a 90 day period. I'm okay with that:)
I'm sharing this with you not to brag, rather, I hope it will inspire you to make a change. If you're feeling out of shape, or just looking for a new challenge, I can confidently say that P90X has changed my life and will do the same for you! It's a hard, yet simple way of making a drastic change and feeling great. In addition to my physical change, I've noticed a huge change in my mental state as well. I'm more confident, level headed, and really much more positive than I was 90 days ago. If you'd like to learn more about this workout regimen, feel free to ask me about it. Also, check out
this
blog from a friend of mine. He's an incredible young dad and helps coach people through the P90X programs as well as educate on nutrition, technique, etc.
People ask me, "What are you going to do now?" Well..... I'm going to do another 90 day round of the program to get a bit more size. That will take me to July and then I'm going to train for a Triathalon that I'll complete in November. By the end of this year, I should be in the best shape of my life!!!!
I'll keep you posted on my success as well as some ideas around meal planning, working out, and motivational things.